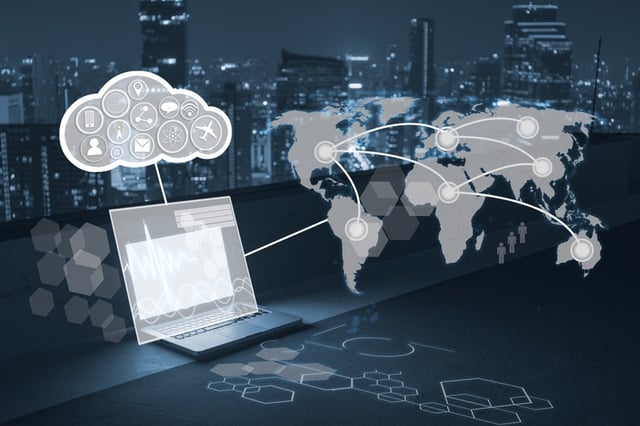 Gartner, Inc. predicts that, by 2020, 90 percent of organizations will adopt hybrid infrastructure management. That isn't a surprising prediction; a hybrid environment can optimize systems based on their unique requirements, which accelerates the delivery of services and applications.
While the hybrid cloud computing environment looks different for every business, it is essentially a mix of on-premises, private cloud and third-party, public cloud services with connectivity and orchestration between the two platforms. This approach to cloud services provides the broadest choices for businesses to maintain an IT state that makes business sense. A closer look at hybrid cloud environments reveals how that translates to increased cost reductions, control, flexibility, agility, accessibility, and innovation, which all spur organizational growth and competitiveness.
Cost Savings
According to an IDC big data report, worldwide annual data production will go from a current average of around 30 zettabytes (a zettabyte is a trillion gigabytes) to 163 zettabytes by 2025. As data grows, in-house data centers become notoriously expensive to maintain and provision. Most businesses, both large and small, are looking for ways to decrease capital expenditures (CAPEX) and operational expenditures (OPEX) in terms of hardware and personnel investment to downsize one or more of their data centers via the use of the public cloud.
A hybrid cloud computing model gives businesses the power to choose where applications and workloads can reside based on best fit. Of course, cost reductions vary for each organization based on its specific technological, operational, and business goals.
Security and Compliance
Security and compliance are major benefits of a hybrid cloud computing environment, because businesses can choose system and application destinations based on their security and compliance needs. For example, keeping particular applications and workloads in on-premises data centers or in private clouds brings the security of greater control. This also enables a higher degree of regulatory compliance, such as HIPAA and PCI, where sensitive financial or health information is concerned.
High Availability and Disaster Recovery
Uptime in terms of IT resources and data access is paramount for every business, so hybrid cloud computing enables businesses to maximize high availability, disaster recovery, and backup services via the use of private and public clouds. For example, a business can keep critical data in a private cloud and a recovery environment in a public service, ready to call up whenever necessary.
Because the public cloud data will be a replica, it remains inactive unless it is needed in the event of a disaster, whether man-made (e.g., cyber threats) or natural. This ensures high availability and major CAPEX and OPEX savings by freeing organizations from having to maintain redundant data centers.
Scalability and Flexibility
Scalability can be a benefit in on-premises, colocated, and cloud environments, as both enable organizations to spin up virtual machines on demand when needed. The public cloud component can provide scalability and flexibility for things like DevOps teams and application development where resources are needed for finite periods of time.
In addition, having an adjunct to private clouds enables the option of cloud bursting to meet short-term spikes in user needs for an ecommerce site, for instance. This circumvents server crashes and also keeps administrators in control of resource management to avoid departments engaging in shadow IT (unauthorized use of cloud services that can increase vulnerabilities).
A hybrid cloud computing environment gives organizations the flexibility and power to:
Configure the platform and resources required for the unique needs of each asset without limitations
Maintain legacy systems or critical applications on premises but place other systems in a cloud environment when it makes sense
Hybrid IT enables businesses to pick and choose the best platforms for supporting various systems, but having IT assets in disparate locations can make monitoring and management tricky. Consequently, an experienced hybrid IT partner can provide:
Managed infrastructure services
Monitoring
Management
Innovation
Hybrid IT brings the flexibility and agility to organizations of all sizes that enable them to accommodate diverse technology and business goals while providing customized answers to complex business challenges. The calculated choices inherent to the hybrid model give every business the power to make decisions in real time that support innovation while also delivering stability and security.