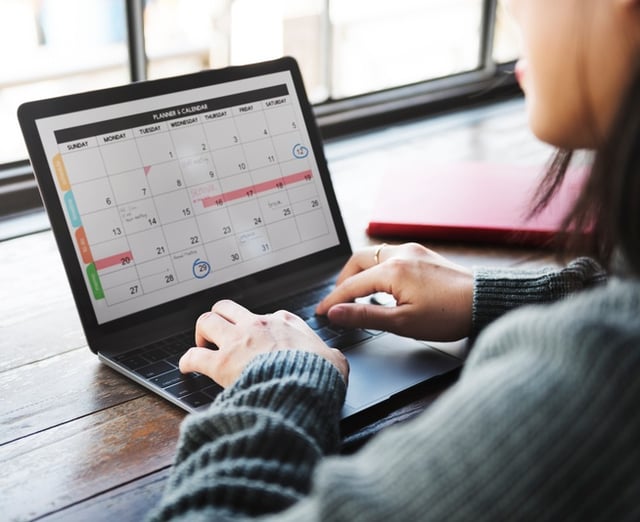 In today's digital business landscape, technology is driving both innovation and operational efficiency in new and unprecedented ways. It's no longer enough for CIOs, CTOs, and IT specialists to stay abreast of these emerging changes. Now the entire business—including the entire C-suite, as well as key management across the enterprise—must stay in touch with IT changes and challenges.
In short, it's imperative that Boston businesses of all sizes and across every sector stay plugged into new IT solutions and approaches that can sustain, transform, and grow their organizations and their people. With 2017 underway, we've compiled a technology events calendar for Boston IT. The goal is that it will help individuals, businesses, and leaders stay plugged into the technology changes that they need to know and understand.
2017 MIT Technology Conference Exponential Technologies
Saturday, February 18, 2017
The MIT Tech Conference is an annual event hosted by the MIT Sloan Tech Club at the MIT Media Lab. Open to the public, this conference features interactive expert panels, keynote speakers from the biggest names in tech, and a showcase of the world's most innovative technologies. This year's conference will focus on the world's most innovative exponential technologies, and its objectives are to understand what's preventing us from unlocking the full potential of converging exponential technology. To learn more, visit mittechconference.com.
NewCo Boston
April 4–7, 2017
NewCo is billed as a festival-like event and conference that takes you directly inside cutting-edge and innovative businesses throughout Greater Boston. The goal is to see and learn first-hand how organizations use technology to change the world rather than just their market.
Subjects ranging from the cloud, the Internet of Things, big data software, and mobility, among other areas of IT, to broader sectors like retail, healthcare, manufacturing, and services are covered. Ultimately, it's about seeing how others are doing IT, applying it, and succeeding with it. To learn more, visit bos.newco.co.
SOURCE Boston 2017
April 26–27, 2017
SOURCE Boston brings security experts and business professionals together in an intimate and personal environment to discuss the security industry's most important issues, technologies, and business trends. The conference is designed for:
Security professionals

Advanced IT professionals

Senior executives

Company chief officers (e.g. CTOs, CISOs)

Faculty and students from colleges and universities

Members of management and business communities who are looking to connect with security and technology experts
To learn more, visit sourceconference.com.
Red Hat Summit 2017
May 2–5, 2017
Boston Convention and Exhibition Center
You don't have to be a Red Hat Solutions user to get a lot out of the Red Hat Summit. It's geared to learning about open-source solutions and different forms of IT and how they are being applied in industries, as well as the innovations from leading IT vendors. To see what it's all about and who was involved in 2016, visit siliconangle.tv-red-hat-summit-2016.
Embedded Systems Conference '17
May 3–4, 2017
Boston Convention and Exhibition Center
From embedded hardware design to the Internet of Things, ESC Boston showcases emerging trends and innovations that will set the tone for the embedded systems industry in 2017 and beyond. Thousands of attendees, hundreds of leading exhibitors, and numerous thought leaders make up the conference. To learn more, visit esc-boston.com.
Centricity™ LIVE 2017
May 17–20, 2017
Centricity LIVE 2017 is GE Healthcare's premier IT education conference, offering thought leadership, best practice sharing, interactive demos, continuing education credits, and unique opportunities to interact with colleagues. For more info, visit gehealthcare.com.
Boston CISO Solutions Tour
Thursday, May 18, 2017
State Room Boston
The CISO Solutions Tour is an opportunity for CISOs and their security teams to address tactical challenges alongside industry-leading service providers. The unique format features a series of solution discussions to harness the collective genius of this powerful community of experts. Each interactive discussion focuses on a specific, best-of-breed solution identified by the Governing Body. For more info, visit evanta.com/ciso/solutions/boston.
LiveWorx17
May 22–25, 2017
LiveWorx is a global technology conference and marketplace for solutions engineered for a smart, connected world. Visit liveworx.com for more info.
Massachusetts Digital Government Summit 2017
September 26–27, 2017
The Massachusetts Digital Government Summit brings together public- and private-sector leaders to discuss actionable state and local government IT that advances the goals of the organizations. Topics include:
Innovation and Leadership

Digital Government Trends

Emerging Technologies

Cyber Security

Data and Analytics

Mobility and Citizen Engagement

Cloud Services

Collaboration
Healthcare Informatics
Boston Health IT Summit
June 15–16, 2017
Revere Hotel
Boston Health IT Summit brings together all facets and levels of the Boston healthcare continuum with leading experts in health IT to discuss, teach about, and learn about how health IT is helping the healthcare sector.
Boston Tech Security Conference 2017
Thursday, October 12, 2017, from 8:15 AM to 5:00 PM (EDT)
This may be the most widely relevant conference in this short technology events calendar, as security is a major concern for every business. This conference is designed to showcase the broad spectrum of new and emerging information security products and services to solve business's complex IT security challenges. Filled with vendors and experts in IT security, the thrust is solutions and discussions about email security, LAN security, wireless security, social media security, cloud security, compliance, and more. For more info, visit dataconnectors.com.
Although there are many more events that could go into this technology events calendar, this is a good start for most businesses to identify how the intersection of business and IT are changing in the digital age.