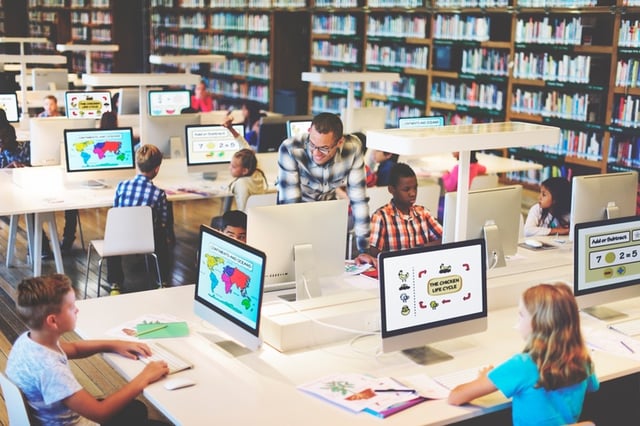 According to the International Society for Technology in Education (ISTE), 91 percent of administrators say effective use of ed tech is critical to their mission of high student achievement. Like the business environment, the modern school environment is being driven by technology such as mobile devices in 1:1 or "bring your own device" (BYOD) programs, streaming video, student wearables, and new educational technologies such as augmented and virtual reality.
This is presenting challenges along with the expanded learning opportunities as these solutions tax the limits of network capacity, overload wireless network access points, and introduce latency issues in applications. More mobile devices and a growing network footprint also mean more security headaches.
In order to maximize the benefits of these and other technologies, schools must find network solutions that resolve the challenges of today while helping future-proof the network for tomorrow's growing access and device needs. Here are just four of the network infrastructure solutions that schools should be using in order to meet that need today and tomorrow.
Solution #1: Wave 2; 802.11ac
The burgeoning demand for Wi-Fi bandwidth and capacity is stressing school IT budgets as well as leading to Wi-Fi interference challenges that lead to a trade-off between coverage and performance. The latest 802.11ac Gigabit Wi-Fi standard, otherwise known as Wave 2, is meant to address those problems in schools and other high-density environments by providing more usable and cost-effective bandwidth than previous Wi-Fi generations.
Wave 2 primary benefits include:
Boosting Wi-Fi speeds to 1.7Gbps in 5GHz, up 30 percent over Wave 1

Wider channels (160MHz) result in up to 3.5GHz of potential throughput

Setting the stage for 3.4Gbps data rates as the related FCC regulations evolve
An equally important innovation for school campuses is that it also provides multi-user multiple inputs and multiple outputs (MU-MIMO) and four spatial streams (4SS). This enables each Wi-Fi access point to transmit to multiple client devices, simultaneously, along separate streams, thus increasing the utilization of the network and enabling higher device densities.
The Wave 2 standard also helps extend battery life by reducing Wi-Fi interface data exchange operation time, which increases the time within power-saving state. This is all-important in classroom environments, where mobile student devices operate on batteries.
Solution #2: Multi-Gigabit Switches
One of the supporting network infrastructure solutions that successful Gigabit Wi-Fi requires is multi-gigabit Ethernet edge switches that can enable Wave 2 deployments over existing Cat 5e/Cat 6 cabling. This sets the stage for educational institutions to realize significant savings by avoiding new cable runs.
Solution #3: Software-Defined Networking (SDN)
Many schools are looking beyond traditional network architectures to software-defined network (SDN) in order to reduce complexity and increase efficiency. SDN provides administrators with centralized, end-to-end visibility of the network, including cloud resources, through a single network controller. This simplifies planning, management, and provisioning of both physical and virtual devices and enables automatic path optimization based on predefined policies.
The controller's software makes all of the decisions about how network traffic should be forwarded. Ultimately, SDN provides automation, centralized management, better server utilization, and greater control of virtualization, which can result in reduced operating and hardware costs for a lower capital expenditure.
Solution #4: Network Access Control (NAC)
One of the most pressing problems for school network administrators is access control and monitoring of the network. Network access control (NAC) is not new, but modern NAC appliances go far beyond just detection, authentication, and policy options.
Today's NAC network infrastructure solutions deliver agentless operation to support a wider number of devices that increase the number of different policy extensions that can be supported. This includes the ability to monitor and control, in real time, what a user/device/application is doing and/or allowed to do on the network. This is done through the creation of a contextual profile of each user, his or her associated device, used applications, port, connected devices, etc.
Device provisioning can be time-consuming, and today's NAC solutions provide onboarding support that automates the provisioning of BYOD devices via a configurable portal. In addition, they enable things like:
Device health checks (patch level, virus scanner installation, and updates, as well as malware scanner installation and updates)

Updated software applications

Agentless supported peripheral checks
An important feature of a modern NAC is its ability to include or link into an advanced threat protection and mitigation system. The NAC can also detect anomalous behaviors as part of its monitoring of users and devices on the network. These actions can then be mitigated automatically without IT support interaction.
Today's NACs provide greater system integration and interoperability with systems such as:
Mobile device management (MDM)

Security information and event management (SIEM)

Next-generation firewalls (NGFW)

Database servers (e.g. LDAP [AD], Oracle, MySQL, SQL Server)
As we increasingly live in a digital world, schools must use technology in order to facilitate more connected learning in real time. As the hub of that connected environment, the network must be fast, adaptable, flexible, and secure in order to make the 21st century learning environment possible. That starts with being aware of and implementing network infrastructure solutions that can cost-effectively make that happen today and tomorrow.