One of the common questions that arises in the IT industry today, what is Identity Management? Identity Management (IDM) is having governance or policy over who has access to what information out of your existing users. The old way of giving users within your environment access to certain servers, files, etc. was on an as-need and individual basis. Applying governance on an individual basis meant an IT resource would manually have to provision rights for users. As technologies in companies swell, the likelihood of mistakes using a manual process would only increase with time. This is not only time consuming, but hard to manage. It also introduced points of vulnerability in guaranteeing compliance with standards such as HIPPA, Sarbanes Oxley and so on.
Now with new technology such Aveksa, it gives the control to set up standards and policy for a group by using automation. The identity management solution from Aveksa allows you to set up a framework to place new users and adjust existing users. As companies change, so does the personnel. Some people leave, others get promotions, while some stay at the same position. You need to be able to track the access these users have to different parts of your environment, regardless of the scenario, and Aveksa will give you this capability. Whether it is the possibility of getting audited, or just wanting to be able to have complete control over your identity management you will no longer have to worry about who has access to what and since what date, Aveksa has you covered.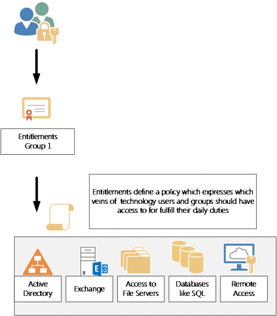 For more information about how Rutter Networking can help you install and implement your identity management solution please contact RNTmarketing@rutter-net.com!