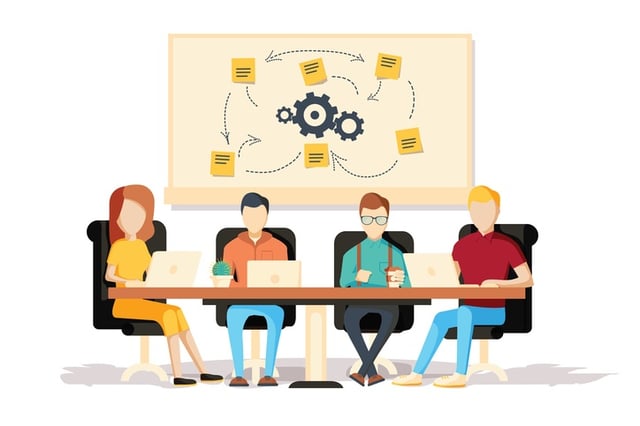 A recent Dell EMC study showed that participants saw 58 percent of their IT infrastructure transformation as having reached a higher level of maturation, which points to a glaring problem in terms of the remaining 42 percent. Consequently, businesses are increasingly finding that an evolving digital landscape requires an IT infrastructure that is adaptable, flexible, and agile.
To meet the needs of a service-driven economy, many Massachusetts businesses understand that they need agile IT infrastructure to respond to the changing technology and business landscape. The concepts behind an agile iterative approach are perfectly suited to IT infrastructure in an era of digital transformation. In this new landscape, IT infrastructure's many layers must be holistically adaptable as an on-demand, self-service computing resource that can rapidly change to meet changing business needs.
Virtualization and the Cloud as the Foundation of Agile IT Infrastructure
Virtualization and the cloud are at the heart of an agile infrastructure as the driver of agile IT. The clear ability of virtualization to cut cycle times and costs of infrastructure CAPEX as well as OPEX is rooted in its ability to simplify, standardize, and above all automate activities with IT infrastructure. This includes the ability to utilize automation orchestration and provisioning as part of migrating workloads to the cloud.
The implementation of virtual desktop infrastructure is also an important aspect of agile IT. In an age of mobile workforces, VDI enables access and collaboration while reducing the unsustainable costs of strictly physical hardware and software that must be constantly updated and reconfigured.
---
---
In addition to reducing data center footprints, cloud computing and virtualization enables flexibility with existing legacy environments that can still be integrated within a hybrid cloud environment. The immediacy of virtualization enables nearly instant provisioning of servers to meet changing demands.
Everything from DevOps and increased application performance to BCDR and DevTest are possible with a virtualized IT infrastructure. The ability to lower support and maintenance costs through virtualization frees IT personnel for larger initiatives, which makes the enterprise more flexible and agile while increasing predictability, supportability, and quality in IT operations.
In the digital landscape, SMB and enterprise IT infrastructure must be poised to take advantage of the shifting paradigm encompassing big data, IoT, AI, and machine learning. These will be the growth areas for:
Opening new markets and lines of business
Providing actionable intelligence and information-gathering on people, processes, and machines
Software-Defined Networking and Agile IT
As computing moves to the network's edge, enterprises must be concerned with gathering data and connecting these endpoints via network and infrastructure solutions that do so in a holistic way regardless of their location on or off the LAN. Software-defined networking is a major way to enable efficient connectivity with reduced energy and computing costs, and ease of disaster recovery.
The advent of the software-defined network (SDN) is integral to this approach as it ushers in virtual switching and routing instances at WAN scale. SDN with network virtualization can enable rapid service deployment that can instantly meet shifting demands. Because SDN can help IT teams shift their focus from technology maintenance to service delivery, it is considered a key component of the agile infrastructure.
Agile IT Infrastructure Security
The cybersecurity aspects of an agile infrastructure are the part of the connective mesh that ensures security across the network and beyond the network edge. While aspects such as next-gen firewalls and VPNs are part of that mesh, so too are logging, and monitoring within an end-to-end security framework. These solutions can and should include:
Web access management (WAM)
Single sign-on (SSO)
Data loss prevention (DLP)
Information rights management (IRM)
Masking
Provisioning
Access governance
Authentication and more
More than ever, success of a business is dependent on its agility, which starts with its IT infrastructure leveraging the benefits of a cloud-empowered infrastructure for constant improvements. The holistic and integrated approach to people, processes, and technology built on agile IT enables organizations to seize new opportunities and respond rapidly to disruptive events in the marketplace.
For many organizations, outdated network, data management, and compute processes are a roadblock to innovation and competitiveness. Still, an agile IT infrastructure that leverages the cloud and virtualization infrastructure is also about changing the business culture in many cases.
Consequently, Massachusetts businesses must be capable of laying out a plan of action with specific outcomes based on establishing consistent performance across unpredictable workloads. The ability to scale capacity and performance independently is foundational to that approach in a rapidly changing digital business environment.