As organizations move to support hybrid and remote workforces, they're challenged with managing the different devices that access organization resources. Admins must protect organization data, manage end-user access, and support users from wherever they work. To help with these challenges and tasks, Rutter Networking Technologies recommends using Microsoft Intune. Never heard of this Microsoft solution? We break down what Microsoft Intune is, why it's our recommendation, and more below.
What is Microsoft Intune?
Microsoft Intune is a cloud-based endpoint management solution. It manages user access and simplifies app and device management across many devices, including mobile devices, desktop computers, and virtual endpoints. You can protect access and data on organization-owned and users' personal devices. Microsoft Intune also has compliance and reporting features that support a Zero Trust security model.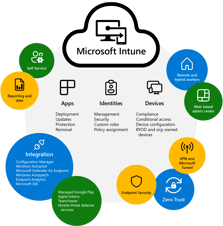 Microsoft Intune Features
Some key features and benefits of Intune include:
You can manage users and devices, including devices owned by your organization and personally owned devices. Microsoft Intune supports Android, Android Open Source Project (AOSP), iOS/iPadOS, macOS, and Windows client devices. With Intune, you can use these devices to access organization resources with policies you create securely.
Intune simplifies app management with a built-in app experience, including app deployment, updates, and removal. You can connect to and distribute apps from your private app stores, enable Microsoft 365 apps, deploy Win32 apps, create app protection policies, and manage access to apps and their data.
Intune automates policy deployment for apps, security, device configuration, compliance, conditional access, and more. When the policies are ready, you can deploy these policies to your user groups and device groups. To receive these policies, the devices only need internet access.
Employees use the self-service features in the Company Portal app to reset a PIN/password, install apps, join groups, and more. You can customize the Company Portal app to help reduce support calls.
Microsoft Intune integrates with mobile threat defense services, including Microsoft Defender for Endpoint and third-party partner services. With these services, the focus is on endpoint security, and you can create policies that respond to threats, do real-time risk analysis, and automate remediation.
You use a web-based admin center focusing on endpoint management, including data-driven reporting. Admins can sign into the Intune admin center from any device with internet access.
What is the difference between Microsoft Azure and Microsoft Intune?
Where Microsoft Azure is a cloud computing platform to help businesses manage their applications, data, and infrastructure in the cloud—Microsoft Intune is a cloud-based service that provides mobile device management (MDM) and mobile application management (MAM) capabilities. With Intune, businesses can manage policies and settings, distribute apps, and protect data on mobile devices.
Microsoft Intune is a standalone product that does not require the use of Microsoft Azure, but the two can be integrated through Azure Active Directory (Azure AD). This integration allows organizations to use Azure AD for user authentication and authorization, and to use Intune for mobile device management and application management. Integrating Intune with Azure AD provides several benefits, such as:
Single sign-on (SSO): Users can use their Azure AD credentials to sign in to Intune and other Microsoft cloud services, eliminating the need for multiple usernames and passwords.
Conditional access: Organizations can use Azure AD conditional access policies to control access to Intune and other cloud services based on user identity, device health, and location.
Simplified administration: Administrators can use the Azure AD portal to manage user accounts and access to Intune and other cloud services, reducing the need for multiple management consoles.
Advanced reporting: Organizations can use Azure AD reporting to gain insights into user activity and security events across Intune and other cloud services.
What are the disadvantages of using Microsoft Intune?
Microsoft Intune may not offer all the features that users need on its own, particularly if you have complex mobile device management needs. That's why you might want to supplement Intune with other tools or platforms like Microsoft Azure.
If you're not always familiar with Microsoft's suite of tools, you might find Intune requires a bit of a learning curve. Rutter Technologies is here to help you make the most of your time and resources, as well as teach you how to use it effectively within your organization.
At Rutter, we are experts in Microsoft Intune and can help businesses of any size make the most of this platform. Contact us today to learn more about how we can help your business with Microsoft Intune.