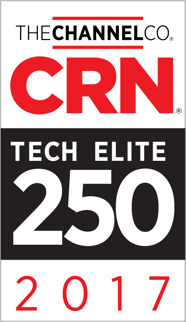 Rutter Networking Technologies, Inc. announced today that CRN®, a brand of The Channel Company, has named Rutter to its 2017 Tech Elite 250 list. This annual list honors an exclusive group of North American IT solution providers that have earned the highest number of advanced technical certifications from leading technology vendors, scaled to their company size.
To compile the annual list, The Channel Company's research group and CRN editors work together to identify the most customer-beneficial technical certifications in the North American IT channel. Solution providers that have obtained these elite designations—which enable them to deliver premium products, services, and customer support—are then selected from a pool of online applicants.
New England based Rutter Networking was selected to the Tech Elite 250 a for its deep technical expertise, diverse portfolio of technology certifications and proven ability to help customers design, purchase, install, service, and maintain advanced technology solutions. Rutter's technical teams are certified in a wide range of disciplines, enabling them to create highly customized solutions to meet their customer's complex needs.
"This exclusive, ambitious group of solution providers boasts some of the most advanced IT certifications available from top technology suppliers," said Robert Faletra, CEO, The Channel Company. "They have adapted impressively to major changes in the IT channel, especially the shift to a more services-driven market, by expanding their skill sets and sharpening both their technical and customer service expertise. Congratulations to our 2017 list, whose robust investment in their organizations has earned them yet another elite designation—the CRN Tech Elite 250."
Coverage of the Tech Elite 250 will be featured in the April issue of CRN, and online at www.crn.com/techelite250.